Industrial Work
INDUSTRIAL STEEL FABRICATION AND INSTALLATION
Plas-Tal Mfg. established our reputation in the industrial steel fabrication and installation market and has never forgotten our roots. Through the years we have been committed to serving local refineries, aggregate facilities, and manufacturing companies, and providing them with the finest fabrication and installation services available.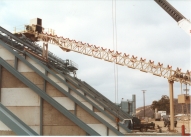 A portfolio of our industrial steel construction successes includes projects such as Petroleum Coke Storage Facilities, conveying systems for rock and sand plants, rotary dryers, furnaces, shiploaders, and platforming and access systems. Plas-Tal has established strong relationships with several mechanical and equipment distributors that work hand in hand with us to achieve successful results in all industrial ventures. Whether your need is a portable conveyor or custom fabricated storage structure, Plas-Tal is the company to call.
 The Bay Area Bulk Terminal Storage Facility is a state of the art petroleum coke storage and conveying facility. The site is located in Pittsburg, California and has recently been completed and turned over to the Owner, ahead of schedule. This is the fifth turnkey petroleum coke storage facility that Plas-Tal Mfg. has built not only in the capacity of steel fabricator and erector but also as the General Contractor.